【NOTICE】"Kanjuro world " is coming soon!
2021年9月25日 ~ 2021年9月26日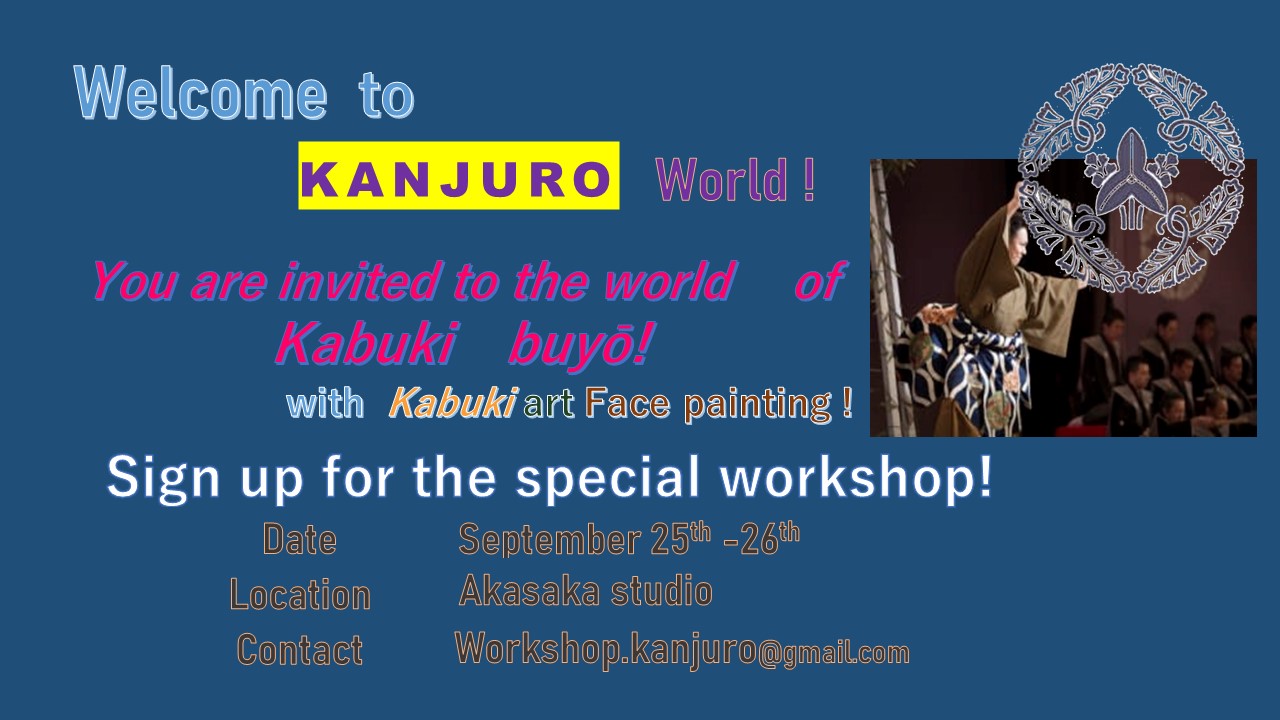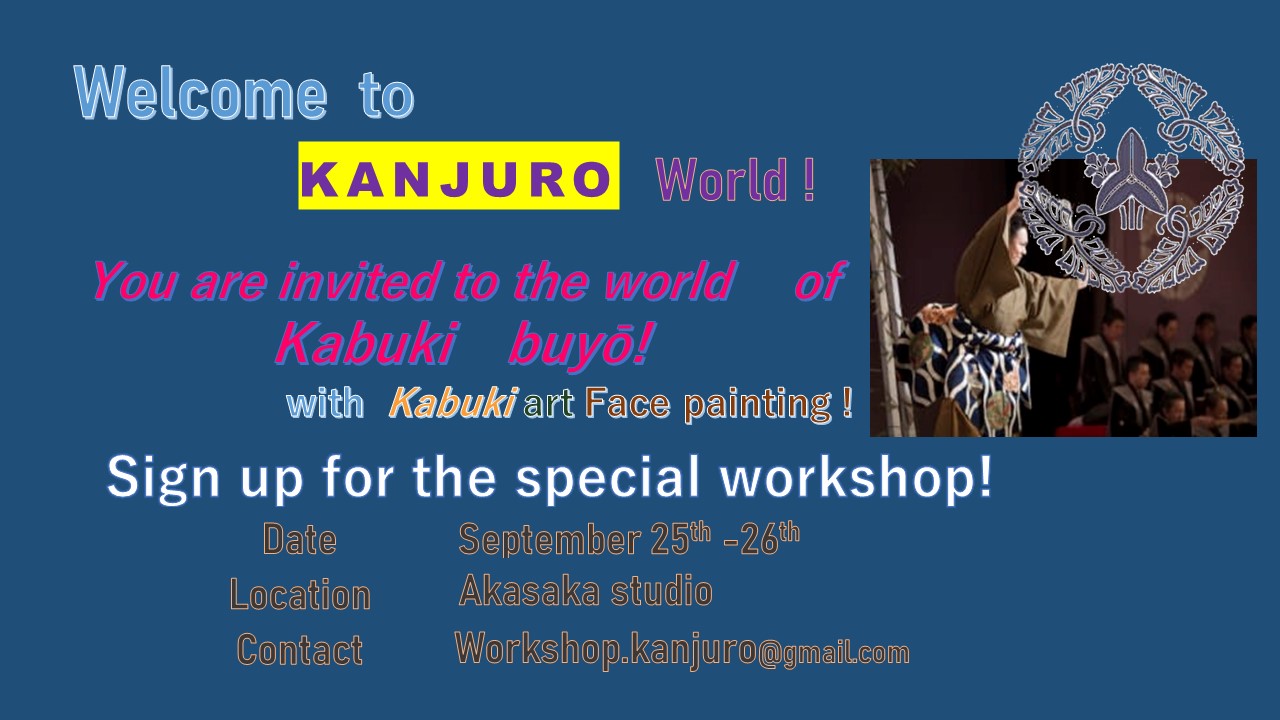 【Explore the world of Kabuki Buyō!!】
Welcome to Soke-Fujima school of Nihon-buyō.
We would love to invite you to our workshop "Kanjuro-world"
You will learn the essence of Japanese culture throughout workshop. During the session , we offer Kabuki-style face painting and will be able to experience the on-stage appearance of Kabuki actors.
Don't miss the chance for one and only experience!
【Special Workshop Information 】
Dates September 25th-26th 
Time  1) 11:00am-14:00pm
         2)15:00am-17:00pm
We offer 2 classes at different times:
1) Early Leaners – 3 to 6 y/o
2) Elementary Class – 7to 12 y/o.
Siblings in close age range would be applicable for the same class (eg. 4 and 7 y/o).
Please let us know in advance, as we will do our best to meet your request.
fee     1500yen 
Application
Fill out an application and send it to us via email to:Workshop.kanjuro@gmail.com
Application period      August 26th ~
Application form is here→Application Form for Special Workshop 2021 
Bring your own Yukata & Obi if you have them!
Yukatas with obis are also available for purchase at approximately 3000yen on the day.
---
Attention
※1 We are limited to 10 people in each class. We may decline your application once the class is full.
※2    The workshop dates and times may be changed or cancelled due to increased concern regarding covid19.
※3 Photo permission
In regards to filming and taking photos during the workshop, please be aware that we would like parents and guardians to refrain from shooting as it will disturb the students, and due to other privacy concerns. Please read the Application Form for further information.
---
 Our instructors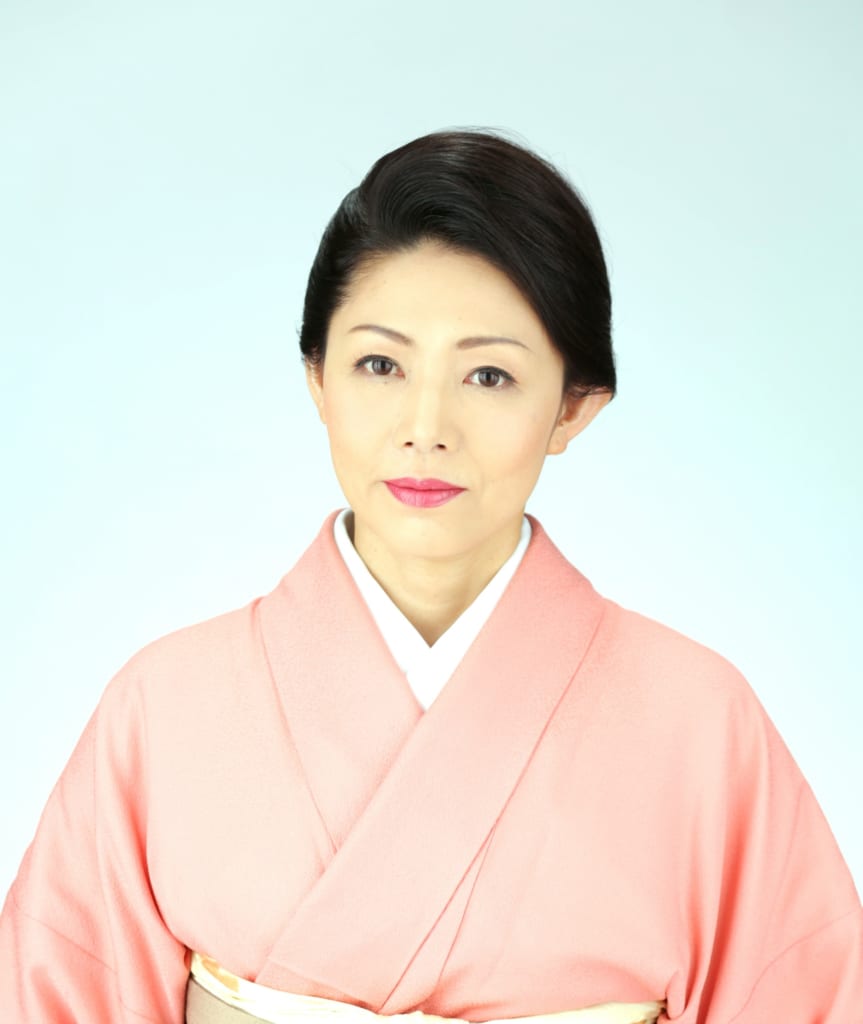 Fujima Suishun
Under the influence of her grandmother, Fujima Suishun began Japanese classical dancing at a age of 6, and now teaches and performs at international schools and culture centres in Japan as a licensed instructor. After graduating from NihonUniversity college of art, and New York University with a masters in Performance studies(gender in performance), in efforts to spread traditional Japanese dance culture to the world, Suishun took part of various performances in the United States and Hong Kong. Using her qualifications as both a licensed instructor and her degree in Performance studies, Suishun wishes to continue to develop and expand the tradition to the following generations.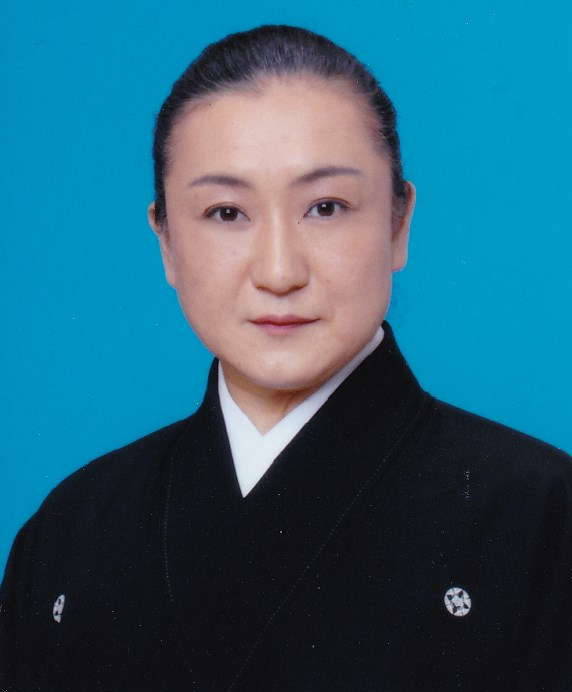 Fujima Keiwa
Fujima Keira began Japanese classical dancing at the age of three. Upon her graduation from Nihon University College of Art, Keiwa began her time as an apprentice to her current mentor, Fujima Kan-eri and is currently a licensed instructor.
In addition to performing all over Japan and working as an instructor at culture centres, Keiwa currently teaches at the Shochiku Kabuki school for children, the Terakoya. She also has been awarded as the best instructor in 2018 and 2019 at the Tokyo Newspaper Dance Competition.
Keiwa aspires to spread the beauty of Japanese Classical dancing whilst continuing to develop as both a performer and dancer.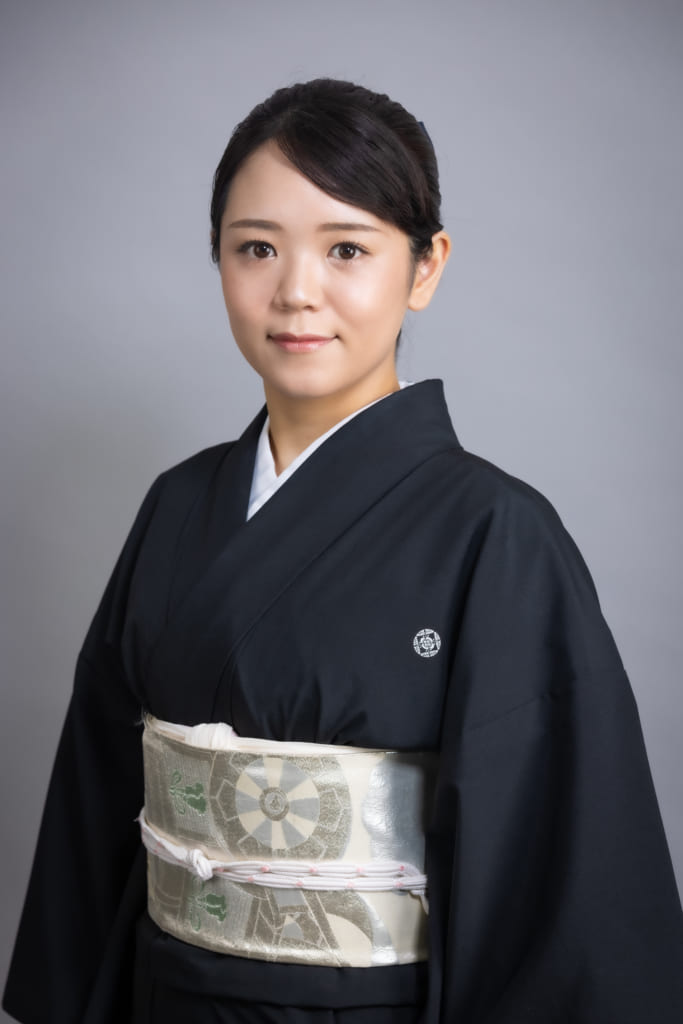 Fujima kan-Chie
At the age of 4, Kan-chie began Japanese Classical dancing under the influence of her grandmother. She graduated from University of Sacred Heart in 2017, and became a licensed instructor in 2015. Kan-chie has appeared on several stages throughout her career: "FUJIYAMA" in 2016, and the Minamiza Theatre in 2019. From 2018, she began teaching as one of the instructors at Shochiku Kabuki school, Terakoya. Currently, Kan-chie works under Fujima Kanjuro the 8th, as one of the choreographers and instructors. Through Japanese Classical dancing, Kan-chie wishes to inherit the tradition of Soke Fujima and pass it down to the later generations.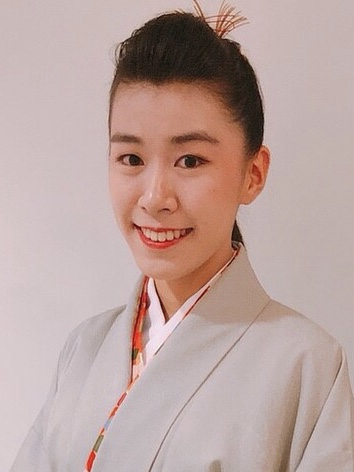 Fujima Kagae
Born in 1998, Fujima Kagae has been dancing Nihon-buyo since she was 6 years old and became a Shihan-natori (licensed instructor) of Soke-Fujima in 2018. She has appeared on several stages throughout her career, "Kaidan-Chibusa-Enoki" in 2015, "FUJIYAMA" in 2016 and the Nihonbashi-Auditorium in 2020. Currently, Kagae is majoring in Body Expression and Cinematic Arts at Rikkyo University while working under Kanjuro FujimaVIII handling overseas public relations. As a goal, she strives to convey the charm of Nihon-buyo to people all over the world.